Following up from my last post, the Classic Club has declared the number for Spin #24 and it is – ta da – 18!! What does that mean? It means I am overly joyed, completely excited and for a change not dreading reading the book that has been spun out – I get Travels with Charley by John Steinbeck ( Drum Roll Please!)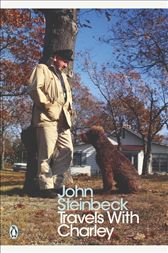 Steinbeck is one of those authors who was critical in my formative years and along with Jane Austen and Harper Lee has left an indelible mark on my character, giving me a set of values and creating my belief system. East of Eden is my most favorite and it's closing lines of "Timshel" – you may overcome is one of my guiding principles in life, where the choice to overcome is yours and it's is your action that drives your life. However despite this abiding love and admiration for Steinbeck, there are some books which I still have to read (the old problem of so many books and so little time ) and therefore I am over the moon that this one time I have a Classic that I do want to read!
I just ordered my copy today and hope to post a review of the book soon! So what was your Spin number?